The light machine gun is a new gun for Respawnables 2.It is a M249 Light machine gun.
Wikipedia has an article M249 Light Machine 
Power : 5/10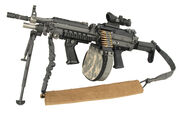 Range : 7/10
Accuracy : 4/10
Agility : 4/10
Features : High ammunition clip
Price : 60 gold
Exceptional for power.If combined with it's high fire rate it feels like shooting 10 bullets per second so the total DMG each 10 bullets = 50.It has a principal of "Just rain enemies with bullets".With that,accuracy don't bother.So does the agility.Just rain down enemies with bullets.
Lottery Ticket
Edit
The LMG can be gained in Silver Lottery ticket.
In real life,the LMG is slower than the stat given upside.
Ad blocker interference detected!
Wikia is a free-to-use site that makes money from advertising. We have a modified experience for viewers using ad blockers

Wikia is not accessible if you've made further modifications. Remove the custom ad blocker rule(s) and the page will load as expected.