This is the policies for Respawnables Fanon wiki
Make sure everyone will pay attention to this.
Page Policy
Edit
Pages must have each own description based on who is creating the page.One of the example of it was 
Scattershot
.It has it's own description of it's own user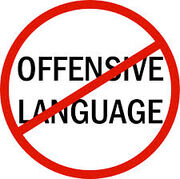 There must be no 'Vandalism and 'Spam.
Anyone was not permitted to add offensive external links such as Virus or Hacker or Spammer's website.Pornographic is also untolerated plus one more thing left is that each editors must identify their names and ex-account name.
And one more thing at the picture :
"Speak" Policy
Edit
Speaking of swearing must have censored words.Anyone who is doing that and uncensored will be given warning.If for another time they will be blocked.Gay,Vaggot or Faggot,F or anything must be censored with * or $ or anything
User Policies
Edit
Sockpuppets aren't allowed.Sockpuppets are guys who are blocked by a user then make another account to pretend as another people.Sockpuppets are only allowed if a user is blocked because unknown reason.One of the reasons are the message for Ex-admins or Admins are power abuse by blocking everyone here or blocking other people with reason just for fun.The admin will get a fair warning.If so the user shall become no admin anymore.
Spammers are very untolerated.Vandals are also untolerated.Every Vandals and Spammer here will be named "Killer"
Other noted things
Edit
Permanent blocks will result if a user has added offensive things so many times
Sockpuppets aren't allowed.But one sockpuppet is enough.IP address must be checked
Any users or editors are free to add a trivia or Multiplayer gameplay
Every original weapons of a user-made can be used on another page
Everyone can add pictures of any kind the weapon has
Ad blocker interference detected!
Wikia is a free-to-use site that makes money from advertising. We have a modified experience for viewers using ad blockers

Wikia is not accessible if you've made further modifications. Remove the custom ad blocker rule(s) and the page will load as expected.